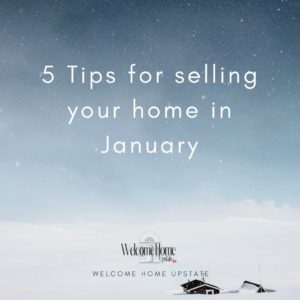 January is often not associated with the peak season for the real estate market. However, if you pay attention to the market, and plan accordingly you can still sell you home for top dollar in the first month of the new year. 
Still selling your home in the winter months can be a daunting task. Here are some tips to help the process. 
The Wonder of Winter Weather 
While many assume the summer months are the best time to buy a home, this is not true for all. Especially in South Carolina, the weather can play a huge part in buyers' plans. In the summer months Greenville can become stifling and uninviting for buyers to go see homes in the heat. 
This means that Greenville's mild weather winters can make it more inviting for potential buyers to come see your home, or to come attend an open house! 
        2. Winter Landscaping 
Nearly 90% of people that see your home will never see this inside, even when it's on the market. This is why curb appeal is so important. 
During the winter months this can be challenging as grass turns brown, trees lose their leaves, and flowers cannot be kept alive. But there are some things you can do. Even if it's dead make sure your grass stays trimmed, cut back any winter growing weeds like the all so common "onions" that grow in Greenville yards, and utilize hardy plants that can survive the cold especially on the porch and around the front of the home. 
        3. Winter Wonderland 
This may seem like an obvious tip but, make sure to put away and store and and all Christmas decorations. After the first of the year, Christmas decorations tend to stop being viewed as beautiful and begin to be seen as tacky. It's important for buyers to be able to see the home and all of its features, and Christmas decorations can cover those features in unnecessary ways. 
         4. Winter Scents 
One part of Christmas that doesn't need to be put away are those Christmas scented diffusers or plugs in scents. There are two things that can set your home above others by forming a connection with buyers. The style/look of your home, and its scent. Having your home smell like fresh baked cookies, or spruce can bring all those warm happy winter memories to the surface for buyers and end with them having formed a mental connection to your home even if they don't realize it at  the time. 
        5. Winter Prices 
Many people think that since you are selling your home in the winter it means taking a hit on the price. This isn't true though and you can still get just as much money for your home as if you were selling in the summer months. However, year round the most important part of listing your home is pricing. Contacting an agent or two or three to give you a pricing break down on your home is so important especially in the winter. Price your home too high and it may sit on the market with little interest, price your home too low and you may have left money on the table. It is a delicate balance, so hiring a realtor that knows the market and the best pricing strategy for your home is essential no matter what season you are selling in. 
There are of course a number of perks to selling in January, for one, January through March are the cheapest month to hire realtors! 
If you are considering selling or simply want to know what your home is worth you can reach us at (864) 909-9762