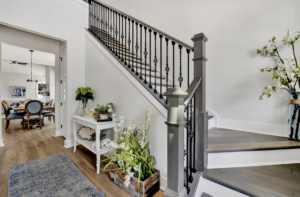 LUXURIOUS LIVING IN DOWNTOWN SPARTANBURG!
Introducing a brand new, meticulously crafted homes nestled in the heart of downtown Spartanburg, South Carolina. These exquisite residences combine modern elegance with timeless charm, offering a luxurious living experience in Spartanburg's vibrant downtown.
As you approach the homes, you'll be captivated by their stunning exteriors, featuring a blend of architectural styles that seamlessly blend into the surrounding historic district. The attention to detail is evident in every aspect of the design, from the carefully selected materials to the thoughtfully landscaped yards.
Step inside, and you'll immediately be greeted by a warm and inviting atmosphere. The open-concept layouts create a seamless flow between the living spaces, allowing for effortless entertaining and comfortable everyday living. High ceilings and large windows flood the home with natural light, creating an airy and spacious feel throughout.
The gourmet kitchen is a chef's dream, boasting top-of-the-line stainless steel appliances, custom cabinetry, and a center island that serves as a focal point for both cooking and gathering with loved ones. Whether you're hosting a dinner party or enjoying a casual meal, the dining area provides the perfect backdrop for memorable culinary experiences.
The master suites are a true oasis of relaxation, offering a private retreat where you can unwind and recharge. It features a generous walk-in closet and a spa-like ensuite bathroom with luxurious fixtures, a soaking tub, and a separate shower. Additional bedrooms provide ample space for family members or guests, each designed with comfort and style in mind.
Outside, a charming patio or deck provides an ideal setting for alfresco dining or enjoying a morning cup of coffee while taking in the picturesque views of the neighborhood. The well-manicured backyard offers a tranquil escape from the bustle of city life, providing a serene space for gardening, outdoor activities, or simply unwinding under the shade of mature trees.
Located in downtown Spartanburg, these homes offer the best of urban living at your doorstep. Explore the city's vibrant arts scene, indulge in a variety of dining options, or take a leisurely stroll through the charming streets lined with boutique shops and galleries. With convenient access to parks, schools, and major highways, this location truly combines the best of both worlds.
In summary, these brand-new craft homes in downtown Spartanburg, SC, present an exceptional opportunity to own a thoughtfully designed residence that combines elegance, comfort, and convenience. Immerse yourself in the vibrant city life while enjoying the serenity and comfort of your own private sanctuary. Welcome home.
ABOUT SPARTANBURG
Unmatched statewide in economic development for new investment and job creation. Home to a thriving cultural district with public art on nearly every corner. Higher education hub with seven diverse institutions. Award-winning wellness initiatives. Breathtaking outdoor recreation opportunities, and more trails than any other county in South Carolina. Historical significance dating back to the Revolutionary War. When you add it all up, now is the time to be in Spartanburg.
Spartanburg County, the 5th-largest in South Carolina, is home to nearly 328,000 people and 13 unique municipalities.
There's something for everyone here. A growing downtown with new shops and restaurants, and public art on every corner. International companies and countless small businesses offering career opportunities, and organizations to help you get involved civically and professionally. Miles and miles of trails, blueways and incredible outdoor recreation offerings. Community-minded approaches to education and public health.
Families, young professionals, retirees, entrepreneurs, they all call Spartanburg home, growing, evolving and expanding with our community.
SPARTANBURG COUNTY
Each area of our county offers a unique character and history all its own. From bustling, vibrant areas to quaint, welcoming towns, Spartanburg County has it all.
Campobello | Chesnee | Cowpens | Inman | Landrum l Middle Tyger Area (Duncan, Lyman, Reidville, Wellford) | Greater Pacolet | Woodruff
CITY OF SPARTANBURG
The City of Spartanburg is always doing. Live in the City, explore its cultural assets and take advantage of its many parks, playgrounds and outdoor spaces.
Other areas of Spartanburg to check out: Drayton Mills | The Mary Black Foundation Rail Trail | The Northside l | Our Colleges
DOWNTOWN SPARTANBURG
Eat, shop, play and live in walkable Downtown Spartanburg. All you need is right at your fingertips.
Points of Interest: Chapman Cultural Center | Daniel Morgan Square | The Masonic Temple | The Montgomery Building