Are you considering relocating to a place that offers a perfect blend of Southern charm, economic opportunities, and a thriving community? Look no further than Greenville, South Carolina! Known for its picturesque landscapes, vibrant downtown scene, and strong job market, Greenville is a city on the rise, and it might just be the perfect place for you to buy your new home. In this blog post, we'll explore the perks of moving to Greenville and the fantastic real estate opportunities available in this hidden gem of the South.
1. Quality of Life:
Greenville consistently ranks high in national quality of life rankings. It's no wonder why; the city boasts a mild climate, excellent healthcare facilities, low crime rates, and top-notch schools, making it an ideal place for families to settle down.
2. Thriving Job Market:
One of Greenville's standout features is its diverse job market. With a burgeoning tech industry, manufacturing, and a revitalized downtown, you'll find job opportunities in various sectors. According to recent statistics, Greenville's unemployment rate consistently stays below the national average, making it an attractive destination for career growth.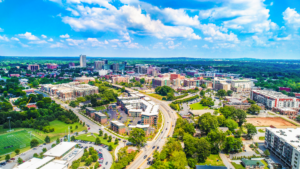 3. Affordable Living:
Compared to many major metropolitan areas, Greenville offers a cost of living that won't break the bank. This is especially appealing when considering real estate. The average home price in Greenville is lower than the national average, making homeownership a viable and attractive option for many.
4. Real Estate Opportunities:
With a variety of neighborhoods, from historic districts to modern communities, you'll find an array of housing options that cater to your preferences. According to data from [Local Real Estate Agency], the Greenville real estate market has seen steady appreciation over the past several years, with an average annual increase of [percentage]% in home values.
5. Stunning Natural Beauty:
Greenville is nestled in the foothills of the Blue Ridge Mountains, offering outdoor enthusiasts an array of activities. From hiking and biking on the Swamp Rabbit Trail to exploring beautiful state parks like Falls Park on the Reedy, there's no shortage of natural beauty to enjoy.
6. Cultural Scene:
For those seeking cultural experiences, Greenville doesn't disappoint. The Peace Center for the Performing Arts hosts world-class shows, and downtown Greenville's Artisphere festival and live music events ensure there's always something happening.
7. Commute and Accessibility:
Greenville's efficient road network and international airport make travel and commuting a breeze. This convenience extends to nearby major cities like Atlanta, Charlotte, and Charleston.
If you're considering relocating to Greenville, SC, there's no better time to explore the real estate market. With a low cost of living, strong job market, and a wealth of cultural and recreational opportunities, this charming Southern city has so much to offer. Whether you're looking to buy your first home or find your forever home, Greenville is a city that welcomes newcomers with open arms. Don't miss the opportunity to be part of this thriving community!
So why wait? Contact us today and learn all about relocating to this gorgeous city we are so blessed to call home!